Home

About us
Brief history
SAM2013 founders
SAM2013 symbol
Group Consciousness
SAM2013 products
Course Calendar
Contact info
Donations

What is SAMfume
SAMfume Fragrances
How SAMfume works
Selecting fragrances
Using fragrances
Order SAMfume singles
Order SAMfume sets
Wholesale & Licensing

Books in print
SAM Light Candles
Clothing
Foods
Jewelry Medallions
Crystals
Meditation Stones
SAM2013 Windbells
Synthesis Card Deck
Posters
Additional Products

Synthesis Color School
Synthesis Color System
Course Calendar
Synthesis Card Deck
Color Consultations

Crystal Training
Saint Highlight
Links & SAM Article
Sitemap
Online shop
Course Calendar
Contact info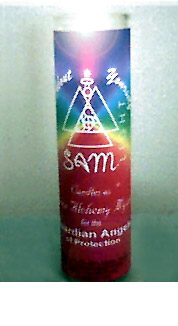 By definition, a candle is usually a molded or dipped mass of wax or tallow containing a wick that may be burned (as to give light, heat, or scent or for celebration or votive purposes).

We can celebrate, just as we can have votive purposes of devotion or gratitude, for many reasons. If we think of a candle as a verb, or action word, instead of as a noun, or object word, the definition of "candling" is to examine an object/symbol/energy/etc. by holding it between the eye and a candle light. In this case we are holding the SAM2013 manifested symbol of light itself, with your chosen SAM Light candle quality.

SAM Light candles are long burning 8-5/8" high and 2-1/2" diameter jar candles with different colors and fragrances.


Click here for a list of our SAM light-candles and for purchasing information
©2003-present SAM2013 Design: Cattail Consulting & Design