Home

About us
Brief history
SAM2013 founders
SAM2013 symbol
Group Consciousness
SAM2013 products
Course Calendar
Contact info
Donations

What is SAMfume
SAMfume Fragrances
How SAMfume works
Selecting fragrances
Using fragrances
Order SAMfume singles
Order SAMfume sets
Wholesale & Licensing

Books in print
SAM Light Candles
Clothing
Foods
Jewelry Medallions
Crystals
Meditation Stones
SAM2013 Windbells
Synthesis Card Deck
Posters
Additional Products

Synthesis Color School
Synthesis Color System
Course Calendar
Synthesis Card Deck
Color Consultations

Crystal Training
Saint Highlight
Links & SAM Article
Sitemap
Online shop
Course Calendar
Contact info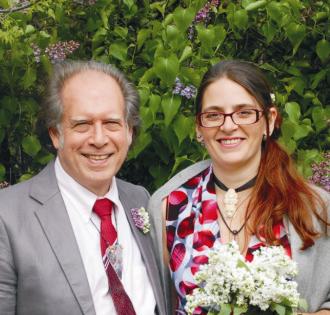 The founding of SAM2013 and of the Courses, Trainings and Sessions are by Spencer Anthony Marrese (SAM), who is also known as "Surya/Suon", "Atom", or "Manu" and Ioana Alexandra Cristina Marrese (Angel) or "Shining Angelic Muse - SAM". Mircea Popa is the current CEO and in charge of all business operations.

Surya and Angel have participated in these activities for over 59 years of combined experience through various classes, studies, initiations, courses, ceremonies, rituals, celebrations, and personal experiences. Their combined teaching includes having conducted courses and sessions in the United States since 1981 and began conducting sessions in Western Europe in 1985; courses in Western Europe in 1988; and sessions and courses in Eastern Europe in 2012. All together, they have conducted more than one hundred courses; thousands of meetings; and more than 5,000 consultations and sessions.

Our joined personal experiences have given insight through prayer, pain, meditation, suffering, yoga, pranayama, massage, water, healing, relationship, birth, parenting, death, light, group, chanting, drumming, psychokinesis, clairaudience, clairvoyance, dreams, automatic writing, revelation, joy and ecstatic experiences, trance channeling, astral and time traveling, color, sound, crystals, pendulum, ceremony, ritual, psychoactive substances, planetary, stellar and extraterrestrial influences and events, contact with devas, nature spirits, and earth energies among others, in relationship with, and service to, the SAMs of the lower kingdoms, human realms, and divine hierarchies.

We have lived, either individually or together, at and visited various communities and ashrams in the U. S., Europe, and India over the past 43 years. These include Findhorn and the related communities of Terre Nouvelle, Alcyone, High Wind, and Chinook; Ananda and Consciousness Village in California; the Schweibenalp in Switzerland; Auraville and the related community of Spring Green; Arcosanti; Harbin Hot Springs; Esalen; Solarcity; the ashrams of Swamis Premananda, Amritanandami, Sai Baba, Maharishi Mahesyogi, Ramana, Ramakrishna, Vivikananda, and Shivananda among others in India, Europe, and the Americas. Surya and Angel have also journeyed on pilgrimages or lived at several sacred sites in the Indian Himalayan Mountains, the American Rocky, Sierra and Pacific Coast Mountains, Israel, England, Wales, Scotland, Portugal, Ireland, France, Germany, Yugoslavia, Greece, Italy, Romania, Spain, South Korea, Czech Republic, China, Luxemburg, Cyprus, Egypt, Albania, Croatia, Serbia, Hungery, Switzerland, Austria, Napal, Holland, San Marino, Mallorca, Andorra, Lichtenstein, Turkey, Bulgaria; four principle, "Mary", sites of Fatima, Lourdes, Medjugoria and Escurial; and four of the five principle Arcane cities of New York, Geneva, London, Darjeeling, (excluding Tokyo).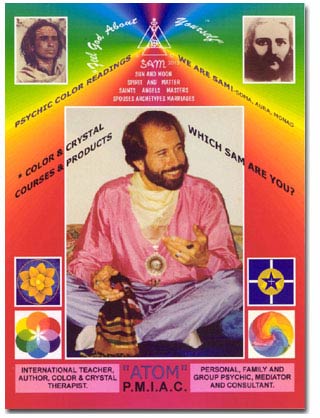 We have in combination met or studied directly with Thomas Wilhite, Willy Brooks, Leonard Orr, Donald Walters, Sant Darshan Singh, Peter Caddy, Eileen Caddy, Dorothy Maclean, Marcel Vogel, Rumi Da, Lawrence Stoller, Vicky Wall, Paolo Soleri, Bhagavan Das, Ishvara, Michael Murphy, Gary Renard, Yogi Bujun, Sun Bear, Inti Cesar Malasquez, Hale Kealohalani Makua, Gubu Ted Thomas, Brandt Segunda, Robert Moss, Ana-Maria Iliescu, Ana-Maria Stefaneseu, Cristina Fluieras, Marian Otelea, Virginia Faur, Remus Tanase, Swamis Premananda, and Amritanandami among others and several of their direct students.
Our combined personal studies have included Scientific, Technical, Business, Economic, Advanced French, Advanced English, Psychology, and Arts University studies; Protestant, Catholic, Greek and Eastern Orthodox Christianity and Hindu, Buddhist, Shintu, Pagan, Ancient, Tauist, Mayan, Jewish, Zorastran, Essenen, and other religious studies; A Course In Miracles, Rosacrusian, Theosophical, Anthroposophical, Arcane School, Agni Yoga and other occult and esoteric studies and methods; various meditation, yoga, pranayama, consciousness work, body work, water work, crystal, reflexology, dreaming and shamanistic studies and methods; and Ayurvedic, Tibetan, Chinese, Homeopathic, Aliopathic, and Alternative forms of medicine.

We have lived with or gotten to know people of many continents, nations, regions, cities, villages, tribes, families, from various races, religions, cultures, societies, and communities that have a significant influence on our understanding, appreciation and demonstration of our lives. Of particular significance and influence are the peoples of the North America and Europe, which has constituted our primary homes and travel for the greatest part ives. Of these two large 'locals', the people of the USA 'Mid-West', West Coast, and Upper Northwest and the European Romanian, British, Portuguese, German, Italian, French, Irish, Scottish countries have been those who we shared most of our lives with so far. Also of more and less influence though visits, meetings, friends or emigrants have been people of India, Spain, Austria, Australia, New Zealand, Wales, Switzerland, South Africa, Senegal, Mozambique, Angola, Sri Lanca, the Pyrenees, Mallorca, Hawaii, Israel, Brazil, Argentina, Venezuela, Vietnam, Chili, Russia, China, Nepal, Egypt, Ethiopia, Peru, Ecuador, Columbia, Sweden, Norway, Poland, Bulgaria, Hungary, Ukraine, Turkey, Greece, Yugoslavia (former), Belgium, Bolivia, Denmark, Ghana, Iran, Japan, Korea, Luxembourg, Morocco, and Netherlands. We are fortunate to have contact, living experiences and friendships with so many different people and look forward to continuing and expanding these contacts, experiences and friendships.



We consider the nine SAM2013 relationships of Singles-Stereotypes-Spouses Ancestors-Ancients-Archetypes Monogamies-Matrimonies-Marriages as three hierarchical levels each of three progressions which complement, balance, nurture and incarnate our lives.

The Somatic or Personality Level are the progressive relationships of Singles-Stereotypes-Spouses; the Auric or Soul (Karmic) Level are the progressive relationships of Ancestors-Ancients-Archetypes; and the Monadic or Spiritual Level are the progressive relationships of Monogamies-Matrimonies-Marriages.

These relationships come through a heart feeling, a mental knowing or a spiritual intuition after, beyond, in parallel with, within, or above the consciousness, below the sub-consciousness, within the unconsciousness or with the super-consciousness of our 'normal' relationships or 'reasons' for relationship.

The three Somatic or Personality Level Relationships are the:

1. Somatic Singles Relationship which is of two 'single' people sharing life as personalities with, in general, each having their own individual work, interests, friends, etc. for their own benefit;

2. Somatic Stereotypes Relationship which is of two 'Stereotypical' people sharing life as personalities with, in general, each fulfilling a Stereotypical role, such as, 'Laborers', 'Techies', 'Teachers', 'New Agers', 'Traditionals', with, in general, Stereotypical interests, friends, etc. for some of their own personal benefit and some personal mutual benefit;

3. Somatic Spouses Relationship, which is of two people sharing life as personalities who have signed papers or have taken vows with, in general, each, sharing in work, interests, friends, etc. for their mutual personal benefit.

This Somatic Level of Relationship is made consciously, sub-consciously, unconsciously or super-consciously mainly through the heart or lower correspondence of the heart in the Solar Plexus or Astral Vehicle. It is based on the highest trusted feelings of our heart.

The three Auric or Soul (Karmic) Level Relationships are the:

1. Auric Ancestors Relationship which is of two people sharing life Karmically as Souls with, in general, both having shared karmic ancestry, nationality, work, interests, friends, etc. for their Soul's benefit;

2. Auric Ancients Relationship which is of two people sharing life Karmically as Souls with, in general, both having shared karmic Root Race, Pre-Historic Nationality/Race, work, interests, friends, etc. for their Soul's benefit and Karmic Evolution;

3. Auric Archetypes Relationship which is of two people sharing life Karmically as Souls with, in general, both having shared Archetypal History, such as, Astrological, Cultural, Epochal, etc. and work, interests, friends, etc. for their Soul-groups benefit and Karmic Evolution.

This Auric Level of Relationship is made consciously, sub-consciously, unconsciously or super-consciously mainly through Knowing in the throat Thought Vehicle or lower correspondence of the throat in the Second Chakra. It is based on the highest knowing thoughts of mind.

The three Monadic or Spiritual Level Relationships are the:

1. Monadic Monogamies Relationship which is of two people (planetary citizens) sharing life monogamously and spiritually through their work, interests, friends, etc. for the benefit of all the world (or the greatest number);

2. Monadic Matrimonies Relationship is of two people (planetary citizens) who have taken Spiritual Vows and are sharing life spiritually through their work, interests, friends, etc. for the benefit of all (or the greatest number);

3. Monadic Marriages Relationship which is of two people (planetary citizens) who are reflections or representations of the 'Marriage in the Heavens' who have been given Spiritual Vows and are sharing life spiritually through their work, interests, friends, etc. for the benefit of all (or the greatest number).

This Monadic Level of Relationship which is made consciously, sub-consciously, unconsciously or super-consciously mainly through Intuiting in the Head or Spiritual Vehicle or lower correspondence of the head in the First Chakra, Base or need center. It is based on the highest intuited needs of our being.

Each of these levels of relationship can be happening more or less consciously and more or less simultaneously for people. However, there is either a 'path of spirit' or a 'path of least resistance' that we each follow in relationship and in our lives (or we don't - which is also a path of least resistance). Most people stop at a point of spirit or least resistance and that might be completely appropriate for them however, if there is something more to that path of relationship that you believe is for you then I would recommend staying on the path until it comes to what you consider is your successful conclusion revealed by spirit and not the end or stopping point due to least resistance.

How can we tell these things about stopping, going or resistance? It isn't easy but it is simple. If spirit is pointing the way, directing, or urging, a climb for you up the ladder or along the path of relationship then spirit will also supply the means. However, we must be prepared to accomplish those means supplied by spirit and there's more discussed about this in the lower section of 'The Founders On Life'.

The first part though will be to find out sincerely, humbly, truthfully, harmlessly and selflessly, if you have a current partner, if they are also willing to make the change that spirit is indicating to you. There is always a way that this can happen through spirit if both people truly want it. If however you are free to make this choice on your own then a first step is to get an idea of what type of hierarchical progressive relationship from above you would like and to get an idea of where you have a current consciousness of relationship. For example, if you believe that your relationships have been 'Stereotypical' however, you are sensing more 'Archetypal' consciousness, such as, astrologically you can allow intuitions to come along these lines for what activities to attend or learn, which astrological archetypes you are sensitive to, certain names, such as, those that have roots in names of planets, constellations, etc. or archetypal qualities in a person, such as, strength for Taurus or family for Cancer. Allow dreams to come and see which people show up in your life based on the dreams. Let it be an interesting spirit directed, educated, activity if at all possible.

Remember also that you may still be in the preparatory stages prior to achieving any of these more conscious SAM2013 relationships consciously. Preparation may seem as a failure, but it is really a way of learning prior to true experiencing. As I describe below I believed that I had had several very significant relationships prior to having what I now consider true SAM2013 relationships. They were, all three, only preparatory and based only on conscious personal choices. They could have evolved further into SAM2013 relationships if there were stronger or truer links to spirit however, neither I, at that time, or my partner had enough consciousness to make those types of evolutions or transformations.

The three Somatic or Personality Level Relationships are based on Personality and are therefore more 'National' in their awareness, 'me and my country'. This isn't a lower state of 'sensing', 'feeling' or even of 'thought' of 'me' or 'my country' but is an active 'Integrated Being' who knows who they are as an individual among other people and what their country is and how it relates in the world among other countries. The three Auric or Soul (Karmic) Level Relationships are based on the Soul and are therefore less personal and more 'Trans-national' in their awareness, 'we and our neighbor countries'. This is a Being who identifies with other Integrated Beings who are meaningfully group aware, orientated, impressed and inspired. The three Monadic or Spiritual Level Relationships are based on Spirit and are therefore more 'Planetary' in their awareness, 'One World One Humanity'. This is a state of Purposeful Identification, and Will for Oneness.

Surya's relationship experiences:

The trust that I have or do not have; or the trust that either does or does not develop; and when or how or why that trust either does or does not develop between me and those that I am in relationship with involves the relationship related experiences that go back to many areas of my life, such as, with parents, God, siblings etc.; from early ages and even pre-ages, such as, conception or past lives, etc.; and from consciousnesses, such as, stereotypes, archetypes, etc. and involves the relationship that I had with all these things to the degree that those relationships are resolved or unresolved and how they are resolved or unresolved.

So this will be a short summary as must be all shared experiences, however, it is my hope that it will be helpful to those searching for answers to what is happening within their relationships.

I have had 'consciousness experiences' of relationship, based on various forms of Yoga including Pranayama and Raja Yoga, such as, the consciousness and awareness of what my parents were experiencing at the time of my conception and my consciousness about my conception and also about their consciousness. Conception consciousness about our parents can be significant by giving us a basic attitude about coming into life that is not our own but rather that of our parents' about life and not necessarily about us at all.

Also consciousness experiences about past lives or stereotypes and archetypes can be very influential. For example, there was a clear knowing the first time I met the second person that I married that she was familiar to a part of me that I myself was only slightly familiar with at that time. Over the years, even after separating from that relationship, a more conscious awareness developed of what in 'other worldly' ways and places had taken place to work things out and continues to work things out as necessary (to Spirit).

Then came a relationship, what most would consider a 'spiritual relationship" (not a SAM2013 Monadic or Spiritual Relationship), with a person who wanted a spiritual partner, as did I. However, just as most people's personality problems arise in 'personality relationships' (not a SAM2013 Somatic or Personality Relationship) spirituality problems arise in 'spiritual relationships'.

My highest being finally after these three, what most people would consider lifetime relationships finally, to my surprise, 'called' out for, and to my even greater surprise, 'immediately met', my 'True Relationship' in 1986. What did this call and meeting 'look like', 'feel like', what did I 'experience'? I was standing in a room when I allowed myself to enter the consciousness of a true partner; I experienced myself on my own, as a bubble floating and rising in infinite space; just me as a bubble and space; nothing else. Then to my utter surprise I noticed something else, another bubble like myself, close by. Without thinking, just like two magnets that get closer and closer due to circumstance initially (and because of inertia) finally get close enough that they have enough magnetism to start to move each other together by the force of their own magnetism and not just by circumstance of their own inertia, we instantaneously started moving faster and faster together. It was as if I looked up (or I became more aware) and something was coming at me fast out of nowhere. My first response was to protect myself and to stop it out of fear and not knowing or understanding what it was and in that same instant knowing it was my true partner and welcoming her. It's as if our whole meeting, with all the details worked out, happened all in one instant at the same time. We came together and instantly started spinning together with a great force coming out of us and going together 'downward' anchoring itself in place and another great force coming out of us and going together 'upward' and exploding, as a fireworks. As the bright points of light of the fireworks came down and settled it was as if our own love was settling on us and releasing us from being anchored to one place and then all was at peace and we were there in peace and the experience gradually faded into me standing in a room.

I found out almost 30 years later that the woman I had 'called for' and 'met' (on the inside in 1986) was only born the year before in 1985 and that it would take us almost 30 years to slowly move through the nine levels of SAM2013 Relationship awareness and meet physically. After what most people would consider a very 'full relationship life' of two ended marriages and an ended spiritual relationship by the age of 33, I started a hierarchical and progressive series of relationships to help me through to a highest consciousness of relationship before meeting her 'The One' at the age of 61.

What happened during those almost 30 years, for me, can only be described as, at least, 'out of the ordinary' by most people. After my 'call' for my true 'Rainbow Butterfly', Spiritual Partner, True Relationship, Divine Partner, True Marriage in Heaven, I heard a voice tell me, or heard an impression from within, or intuited the relationship called, "Fair of Hair with Loving Heart". It's hard to say how this concept came to me but it did come. She would be a woman who could be considered with 'Fair Hair' and a 'Loving Heart'. It only took two years after my 1986 experience, and some miraculous, otherworldly types of events for me to meet Fair of Hair with Loving Heart in 1988. She had had a prophetic lucid dream and had been waiting to meet me for four years since 1984, before our meeting in 1988. However, it took another 5 years and even more miraculous, other worldly events for me to acknowledge her as 'Fair of Hair with Loving Heart'. For example, she didn't fit my 'picture', in many ways of the person that I could even remotely have in mind as my true partner; several other women started 'showing-up' who could also be considered with 'Fair Hair' and a 'Loving Heart' to whom I was more attracted; and I was feeling 'pulled' to other places, in this case countries, and she was not free to travel. So I prepared to go on my way. However, before I went we agreed to have a mutual astrological consultation, with a very good astrologer, about all of this. The consultation went into a lot of things but the thing that was amazing to me was that he told us that it was right for us to part at that time however we would be drawn back together in 5 years. At that time I could barely sense what my life would be from one day to the next let alone what it might be like in 5 years so that was a major point of the consultation that would have to be miraculous and other worldly for anyone to know or predict at that time. However, after five years of me traveling extensively to several countries, going through several other relationships with others who all seemed to fit the description of 'Fair of Hair with Loving Heart', and several of the changes that she had made in her own life it was clear to me that she was the 'Fair of Hair with Loving Heart' in my life. That's when the real challenges began for both of us not because we weren't linked to spirit but because we both believed that we were 'so linked' to spirit. It really takes a book or at least some very long chapters in a book to discuss with any degree of explanation what in fact took place both within us and around us during the next three years after coming into relationship in 1993.

For me, the relationship was about three things: 1. Learning how to avoid 'cutting' a relationship or having it cut by the other person. 2. Learning how to avoid putting stress and strife into a relationship or having it put in by the other person. 3. Learning how to fulfill our spiritual destinies each day of our lives together. In my experience it was on the third lesson of fulfilling of spiritual destinies each day where failure took place. Again, failure not because of a lack of spiritual contact but because of not being able to resolve the differences in spiritual contact and impressions, such as, where and when to move; who, what and where to teach; how much resources to use or save and for what; etc.

I will say that when the relationship ended physically in 1996 I really had to question who or what Spirit had in store for me because then I intuited someone new coming with the identity of 'The One Who Knows'.

Again, people started showing up who fit and met the image in some way of 'The One Who Knows', such as, a yoga instructor, a schoolteacher, and the owner of a retreat center. I was feeling as though I was climbing up the rung's of a ladder of relationship; progressing through the stages or phases of relationship; and even passing the tests of relationship whereas in the past before 'Fair of Hair with Loving Heart' I felt that I was being prepared to be in a relationship with someone or that someone else was being prepared for being in a relationship with me. Things were really changing inside of me about relationship and what it really means and involves having a spiritual relationship. I felt that I was moving along a trajectory towards something in and about relationship. I was moving from an attitude of wanting how a person would be specifically to wanting the person to be anyone who met the specific qualifications of Spirit and our Spirits moving together in and with a harmonious rhythm. And then after three years it happened, I met the person who I knew was 'The One Who Knows' and she knew it also however, her life was in no shape or ready at all to have our relationship. The relationship was over almost before it started.

For me, the relationship was about releasing ourselves from the 'woes' of the past or in other words the things that we regretted and hadn't yet resolved or released mentally that were still blocking the truth of Spirit in us and our abilities to live our lives in the present. I was on the move again in many ways inside and also outside geographically. Before I could even start worrying about or considering what had happened with 'The One Who Knows' any further than the lesson learned, 'The One' was intuited.

This time however people did not start showing up. I became only what, for me, in this life could be considered 'very ill' in both 'surges' of illness and also slow progressions of illness, so that over the next seven years by 2006 I was basically to the point of feeling that I was dying. I had some understanding of what might be happening and did what I could but neither I nor anyone that I turned to, including medical doctors, intuitives, healers, etc., could tell me what was going on or if something was wrong. Then after a revelatory understanding of my spiritual understanding came to me, through another consciousness experience, I started another seven year cycle of recovery, though not of my health and strength but of my spirit and will to live, love, serve and be happy in less physical ways. Up until then I had been very active and had done thousands of healing sessions, conducted hundreds of training courses, seminars or talks all across several countries. Things started moving again within, yet due to my outer conditions, I started preparing for what I thought was to be an accepted retirement to a quiet life in India. And then a strange thing started happening, people started showing up who seemed might be fitting the now very long time awaited, 'The One'. I had already made tentative plans to retire to an ashram in India since I love India and I was old enough and would have enough retirement income. I didn't have to decide and it seemed as though I still should not make a final decision. So I stayed in the uncomfortable position of not deciding beyond when I normally would just make a decision. Then Angel showed up in what only can be described as the 50th some minute of the 11th hour just before I was going to decide. And it was clear that something was going on within her and me about each other. And in our own ways spirit confirmed it to each of us that she could be 'The One' if she wanted for me and I could also be that for her, a reflection of that marriage made in heaven; we could have a reflection of that love for each other.

We moved so quickly into our relationship that other people's heads were spinning but we were celebrating. The celebrating has evolved into life and family after almost four years. The inner and outer challenges grow as the inner and outer influences also grow, however only Spirit knows our true possibilities and our true capabilities to grow and evolve in this generationally different, nationality different, culturally different, life for what we consider and dedicate, to the benefit of all.

I will mention two of the lessons that I feel that we are evolving within our relationship, since no matter the level of relationship the lessons keep appearing to assist us with our spiritual evolution both in awareness or consciousness and abilities or actions and to help others in our lives with these lessons as we learn them: 1 The lesson for our relationship of agreeing to come together again and again and when we come together the lesson of staying together through any period of our 'seeming' separation. In other words, we come together with the intention and purpose of Spirit to stay together, or of becoming one, not just to come together for a lesson or another while or to help each other or to celebrate for awhile and then separate again. We call this being able to choose to use everything or anything to separate us or to use it to bring us together. 2. The lesson of learning to 'pay', (making restitution, reward, reimbursement, recompense, settling up, remunerate, indemnify, restoration, handing back, replacement, surrender, yielding, recovery, compensation, reparation, indemnification, redress, etc.) for our mistakes, inabilities, weaknesses and failures in all the various ways and on the various levels of doing this always (all of the time).

As an added note to these two lessons, which already seem like a lot to learn in a relationship, I would like to add that within both of the lessons is our added lesson, and possibly the most difficult, of how to successfully learn and demonstrate these lessons while having fun.

Angel's relationship experiences:

Before meeting Surya I had not given really any thought to the different levels of relationships. Since early childhood my examples in life had not been inspiring or satisfactory to what I considered that I need, most being of individuals in relationship trying to get the most benefit for personal reasons. The idea of a spiritual partner appeared around 2011 after the decision of following a life of Spirit and thus the desire to share that with someone appeared.

What led me to make that decision is a succession of life experiences starting as early as 9 years old. The death of a strong male figure in my life caused a very strong emotional and spiritual (although at that time I did not know or understand the term) experience that put me on the road to my first long relationship.

That experience lead me to look closely at its effects on a child, a close friend of mine, on a mother and a wife and the desire to truly be of help was reborn inside, although again at that age I was not understanding the decisions I was making inside. Later on through different meditation and breathing techniques the complexity of the decisions I made then started to unfold. It has been a long process of understanding the mind of that 9 year old and how the relationship that was born then came about.

The relationship with this friend lasted for 23 years and it evolved and transformed throughout the years from being childhood friends, to life friends, to partners, then to partners on a spiritual path and then parting ways, each on what we considered Spirit was calling us to do for the Greater Good of all. Looking back at how that relationship evolved and the specific events that helped it move from one stage to the next are close to miraculous to me and I can only affirm that Spirit was at play. Together we had been through many experiences, our roads parting and then coming back together (from my side always with a sense that that was what was meant to be) our roads crossing again and again to bring, what seemed to me, more understanding to our relationship and help it evolve even more. During the last period of our relationship I had started sensing something greater though. Looking at us as two individuals on a spiritual path, the distinct sense that there is something more to life came over me.

Thus my search began, around 2011, when I parted ways with my partner got into a new relationship that brought a sense of fulfillment on the physical plane yet soon dissolved since there was no true spiritual connection. Soon after, I had an accident that seemed to me to be one of the strongest spiritual experiences I had had until then, strengthening the sense of something more to come and clearly showing again how the examples of relationships I was in, with my parents, sister and some friends, were not good enough for me anymore, since they were based more on individualism and independence rather than on unity and interdependency.

After that I got back into the "childhood" relationship again with a sense of more to life, yet, in the same time, to some extent, by 2013, giving up the search and deciding to settle for what was in front of my eyes. That year, 2013, I had some consciousness experience of feeling and sensing unity with someone on such a high level that I had never experienced before or even sensed. The experience was so energetic and the sense of Love was so strong that it seemed I was being moved to a different world, or understanding of the world, this bringing up in me both a sense of fear of what was about to happen and the desire to let go into it and find out what was going to happen. Even with that experience in my being, I had not found what I was looking for yet, in the 2 years before that experience (and to me that was a long time to search for something) or immediately after that experience, so I decided that maybe it's all in my head and gave up.

In 2014 though I met Surya, and things started to move very rapidly. I started hearing and intuiting popular songs and lyrics that I heard and knew, throughout my life, in my mind. Which song I was hearing or intuiting, the lyrics, and the impression I had about the situation I was in at the moment, or what I was thinking about, clearly indicated to me that the impressions were about this new relationship that I should be moving towards, the one that I had been asking for, and that the song and my impressions were about that "someone" from my unity experience one year before. I faced a crossroad in my life: to go with Spirit and what felt to me was right, or to go with society and what others told me was right. Looking back, after these four amazing years of relationship with Surya, it seems as if I was a child, the most 7 years old, standing at that crossroad and choosing to go with my intuition and what felt right. I can say that I was quite naive and idealistic (or full of astral wish-life ideas) at that time when I made the decision to part ways with my "childhood" partner and get into the relationship that was indicated to me by Spirit that I had been expecting and asking for, for a long time. Since then I feel that I have grown up, at least a bit, and that a lot of that astral wish-life projection has been clearing up. Understanding of what kept me in my previous relationship with my "childhood" partner has come up as well and also seeing how Personality kept us from being in a SAM2013 type of relationship, thus failing at being true spiritual partners for each other. However, that does not mean that that relationship has not helped me and brought me closer to who I feel is my True Partner, Surya.

It has been a wonderful journey so far, and it continues to evolve and move and bring up new definitions to concepts that we use or impersonate every day. The understanding that relationship is interconnected with communication, together with responsibility and listening deepens as we move through our daily experiences together with our daughter. As our daughter was born the ways of looking at the definitions of the words relationship, communication, responsibility and listening came, and as an evolution from individuality Singles-Stereotypes-Spouses through Ancestors-Ancients-Archetypes onto Monogamies-Matrimonies-Marriages. These understandings are still moving and evolving everyday.

Relationship - The ship of relation (a moving boat of relating, where water is like emotion, and the boat is "above" it), where relation is defined as the ability to ask a question and truly and openly await an answer.

Communication - The desire to have something in common with another being, object, animal, or thought, etc. which is being seen happening as a picture, clip or movie inside our mind.

Responsibility - The ability to respond honestly, truthfully, fearlessly and lovingly.

Listening - The ability to look at the other person's desires, thoughts, wishes, at least as important as yours, if not more, yet in the same time equal and no different than yours or any others, with the understanding that it is Spirit talking through that person to us.

Thus, for me to truly be and maintain a relationship with Surya and Safi has been challenging me to rise above emotions, be willing to truly listen and truly give an honest feedback, fearlessly and lovingly through an active desire to have something in common with them, while seeing both in my mind, and projected into our lives, Spirit at play. And all of this, as Surya also mentioned, while having fun!

As a reminder our relationships, lessons and experiences are all for a purpose which give meaning to our lives through our actions which come into expression from our thoughts and words (thought to word to deed). For us, the purpose of our relationship is to help advance, evolve, demonstrate, direct, educate, etc. relationship within the context of a group, whether that is a family group, neighborhood group, work group or spiritual group. Please see more information about this by going to our Group Consciousness Page.

And as a final note our relationships must remain 'normal' or 'divinely normal' or 'regular' or 'ordinary' or 'practical' or 'not frustrated', however you would like to view the concept. One way of realizing this is to consider that there are three aspects of life that are primary and critical to be not over-emphasized, under-emphasized or frustrated or it can lead to imbalances that interfere with the above purposes of the relationship and an over active and negative, desirous or tiring dream life. The first aspect is Love. The relationship must have Love 'Sufficiently And Minimally' actively in place spiritually, personally, mentally, emotionally and physically so as not to be unbalanced or frustrated. The second aspect is Sex. If a person thinks that Sex is the same as or a part of Love then it may be wise for that person to reconsider their beliefs, attitudes, emotions and experiences about that and do some additional psychological and esoteric study on the topic which may help them consider other possibilities. The relationship must have Sex 'Sufficiently And Minimally' actively in place spiritually, personally, mentally, emotionally and physically so as not to be unbalanced or frustrated. The third aspect is Ambition, yes, Ambition, not intuition, position, edition or any other 'Ition' but Ambition. We all have an Ambition for something, many things or One Thing. The relationship must have Ambition 'Sufficiently And Minimally' actively in place spiritually, personally, mentally, emotionally and physically so as not to be unbalanced or frustrated.

Each of these three aspects, of course, are emphasized in or through different phases or age cycles of our life; or when certain events occur, such as, the death of a loved one; or when certain situations arise, such as, financial or job related stress and can and will have different 'Sufficient And Minimum' requirements to be balanced and not frustrating. For example, in general, a younger adult probably has, at least as a societal conditioning, Sex or Love more emphasized than Ambition and for an older adult vice versa, however, this is not always the case. When a loved one who is also a sexual partner dies or is divorced or a physical sexual relationship is terminated the 'Sufficient And Minimum' requirements of the three aspects can and do readjust to the new situation, or event. And, of course, the readjustments spiritually, personally, mentally, emotionally and physically can all be, and many times are, different.

We send you our blessings for a relationship of Spirit.



We consider living life in a SAM2013 way of Sufficient And Minimum. This, for us, is the amount or way that is enough to meet and fulfill the required purpose of the present need with the smallest amount of resources, time, or effort possible physically, emotionally, mentally and personally (Somatically or Syclically in SAM2013 terms), karmically (Aurically in SAM2013 terms) and Spiritually (Monadically in SAM2013 terms).

Spirit will always indicate on all levels these Sufficient And Minimum ways of living, however the indications may not be so much in our consciousness (or even the different levels). For example, they may come through dreams, or thoughts we have just before going to sleep or just as we wake up or while we are doing something more calming during the day, such as, taking a walk, jogging, etc or during an emotional episode or even physical disease or injury (see Angel's Relationship Experience above). Dreams, thoughts, impressions or even physical realities, such as, I am or we are spending too much money on eating out, clothing, items for the kids, the car, heating, electricity, vacations, etc.; or we are spending too much time attending these or those meetings or events, celebrations, etc. can all be spirit's indication of not living at a Minimum. Dreams, thoughts, impressions or even physical realities, such as, we or the kids don't seem as healthy as we or they should be; or we don't really feel as close to our friends as we used to, or I'm feeling tired or sexually frustrated, etc. can all be spirit's indication of not living Sufficiently enough by not paying enough attention to healthy food, or not sincerely meeting and spending enough time with our friends, etc.

In other words if our priorities are to live healthy lives in close relationship with friends spirit will indicate the Sufficient And Minimum ways to accomplish those priorities. If we are either not Sufficient and/or not Minimum in those things then those things will not be accomplished successfully or our impressions of what is important to us must be reconsidered since spirit is probably indicating a change of priorities. For example, for about two years of my life I was a very strict mono-diet fruitarian, meaning that I only ate one meal of one type of fruit per day. Because of this diet my 'normal' blood work readings were all very 'un-normal' according to doctors who look at averages of millions of 'normal' people eating 'normal' diets, yet I was and felt very healthy. It was a Sufficient And Minimum diet for me in a year round warm climate. However, when I moved to a climate that included winter that same diet was no longer Sufficient and I believe spirit indicated another change in diet that was Sufficient for the new climate.

Similarly Spirit may be indicating a change in the priorities of friendships, or family relationships, due to a change of our friendship or family 'climates'. For example, a new spouse or baby coming into a family may indicate a changed priority to be closer to some in the family and a changed priority to be more autonomous to others. Spirit will impress the Sufficient And Minimum path for these life changes to everyone involved however, not everyone will always be open to spirit's impression, or may have their personal impressions or habits that they would like followed by others. So, similar to the relationship information above the first part will be to find out sincerely, humbly, truthfully, harmlessly and selflessly within ourselves and through outer communication if others are also willing to make the change that spirit is indicating to us. There is always a way that this can happen through spirit if all people truly want it. If not and others are not open to spirit's impression then if all is done that can be harmlessly and selflessly a person is well to move on fearlessly along the path that spirit is Sufficiently And Minimally indicating although this may not be easy.

We send you our blessings for a Sufficient And Minimal Life of Spirit.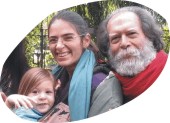 SuryaAngelMiriam







© 2003-Present SAM2013 Design: Cattail Consulting & Design